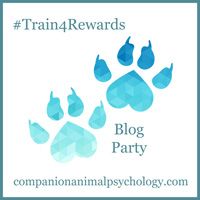 Woofs and wags to Companion Animal Psychology and its #Train4Rewards Blog Party. You think I'd miss this party? Read on!
As a is certified professional dog trainer and behavior consultant, I'm all about reward, reward, reward. Plus, it's an extra-special party for me as it's Poncho's birthday. So here's what I'm bringing to the paw-ty: A case study on reward training from Poncho's column A Pooch's Perspective." 
A woman asked Poncho why her inquisitive canine, a 13-year-old lab, would sometimes discreetly pee in her parents house, though the girl dog never had an "accident" at home. Poncho breaks down his answer into four points.
Know Your Animal – Dogs eliminate when they feel the need, unless they have been taught otherwise. A couple of triggers dogs commonly react to are: texture and scent. For texture, think dirt, grass, tile, cement, and carpet. Oh, about wet grass … do you like a wet toilet seat? For scent, a dog's world is one big perfume counter. Observing another dog going potty, updating status by "marking" territory, and previous learning are a few triggers that give dogs the urge. Additionally, dogs understand "safe and dangerous" as opposed to "right and wrong." Maybe the lab had a previous accident and got into trouble, so the lesson she learned was to "go" when no one was around. Please note: 13 years is on the senior side of a canine's life, so a visit to the vet may be in order to rule out any medical issues.
Communicate Clearly – Humans need to determine what they want from their dogs. Go potty in a specific spot? Or just not indoors? Take the time to teach the wanted behavior and manage environments to help your inquisitive canine to make better choices.
Reward, Reward, Reward – It's all about the reward. In the lab's case, upon arrival at the parents' house, the human should put the lab on a leash, take her to where she should go potty and wait. And wait and wait. If necessary, wait some more until potty victory. Then, celebrate! Give her a big whoo-hoo! Some chin chucks and scratching followed by an edible treat … and the big reward: being allowed inside. Once inside, be sure to keep an eye on her so she can be brought outside immediately should you observe signs she is likely to go.
Should her motivation be marking her territory, then follow basic house-training: keep an eagle eye on her and reward, reward, reward for eliminating outside, along with ignoring areas she likes to claim as her own. Take her to places she's allowed to mark to provide an outlet to fulfill her doggy needs and wishes, while having fun and bonding together.
Set the Stage for Success – Extra time is needed when bringing the lab to her "grandparents," who need to be in on the game plan. (They may need a little training themselves.) If the grandparents are distracted easily, they may want to keep their grand-dog on a leash or in a roomy, comfy crate. If allowed to wander at will, something may trigger the lab's urge to go. Setting her up for success, not failure is key.
Paws and reflect – It's best to use house-training basics: teach, reward-reward-reward, and manage the situation. Inquisitive canines don't know the right thing to do by instinct no more than humans do. For example, if someone were to visit your house, you would show them where the bathroom is. If you didn't they may choose a bathroom on their own and it may not be the one you'd like guests to use. You'd have no one to blame but yourself if they went in the wrong place.
* * *
Wanna join the conversation? Just head to the comment section below. Care to share pics and videos of your inquisitive canine?  We invite you to post on our Facebook page.